i say with theory i can now make a Faraday dick generator without rotation at the disk.
because of cohesion in the aluminum dielectric, and the inertial plane of the magnetic field i should be able to cause the centripetal effects at the center aluminum disc itself.
my biffilar wound aluminum disc coil will be able to generate eddys in the aluminum without rotating it. reason? it already is rotating due to the pancake coil.
i now introduce a steel shaft in the center of the disk. i can do this with a single wire too..
i add more to theory, i make these improvements for the inner disc if needed..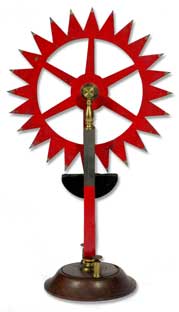 i know i can find the solution..
https://www.google.com/patents/EP2463509A1?cl=en&dq=Barlow%27s+Wheel&hl=en&sa=X&ei=KxBOVeHRAeO0sASCnYCQCw&ved=0CCYQ6AEwAQ
Description technical and physical function principle of "Barlow's wheel"
In Fig. 6, sheet 4 the basic physical principle is illustrated. This is called:
1 Barlow cal wheel (with radial power supply)
2 axis (axial power)
3 Power Source
4 the current flow (using electromagnetic induction effect)
The "Barlow wheel" is principally between the poles of a magnet rotatably mounted metal disc (1 Fig. 6), whose plane is perpendicular to the field lines (H) of a magnet. When an electric current is radially sent through this disc (1 Fig. 6), the current forming electric are NEN by the so-called "Lorentz force" perpendicular to the current direction (ie in the plane of the disc) distracted and to the direction of the field lines of the magnet.
(Note: Lorentz force "F" is the force acting on a charge "e", if this is bewwegt with the speed "v" in a magnetic field = magnetic induction "B": F = e [v × B])
As current flowing here electrodes of the metal discs molecules get through this "distraction" as a result of electromagnetic induction effect a tangential motion pulse, which according to the known physical impulse principle: "action = reaction" to the atomic lattice components of the metal disc (Barlow cal wheel 1 Figure . 6) is transmitted and in the sum of the pulses thereby develops a corresponding "power" (kinetic energy) which the metal disc (1 Fig. 6) set in a rotational movement.
The preferred embodiment of an inductive electric drive motor ("EIA") to the physical principle of "Barlow's wheel"